Now is the time for all of us in business to review, plan, re-think, adapt and prepare so we are ready for when the restrictions start to be lifted. Let's hit the ground running and get ahead of our competitors.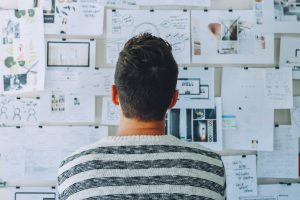 How Covid has made planning more important than ever
The pandemic is changing the economy and the way we work in the world of business. We all need to have a plan in place to face those changes and seize the opportunities. Negatives will change to positives, new ideas will be developed,  so this is the time to start planning your way ahead as we come out of the Covid restrictions.
If you do not have a plan you will not know where to start,  which means you will never arrive at your destination – no plan, no route and no results.  It's like using the Sat-Nav in your car – follow the route and you arrive at your destination as planned; ignore it and you get lost and probably finish up in a dead-end. Unfortunately, 77% of small businesses (SMEs) do NOT have a business plan. As we emerge from the shutdown, having a plan has never been more important to help your business grow, to be competitive and become more profitable.
A well-researched and constructive business plan will undoubtedly help you grow your business – it makes sense. It does NOT have to be 100 pages of precise details, 8-10 pages covering the key aspects is enough. Your plan is dynamic, changing as you move along; it's versatile, but the fundamentals remain the same.
How to build your business plan.
So, how do you piece together your business plan? Everyone has ideas and thoughts about their business and how they want it to develop – write them down as an outline. Next, start to think about the key components of your plan:-
Your vision for your business
The market you will enter
Market research
Your route to market
Check out competitors
How the business operates
Finances – cash flow and budget
If you're not sure where and how to start with your plan, I can guide and support you.
Recently, I have come across many businesses which have 'pivoted' or 'flipped' as they change their business model, going from a shop or physical presence to move online. An example is a shoe shop based in a town centre. The shop had to close, but showing after reflecting on their position, showing  agility and planning, he shop went online within 2-3 weeks and mounted a vigorous social media marketing campaign  – the result was to double their sales in April  compared to April 2019.
Help is at hand
As a business consultant and mentor, I work with start-us, and young business and businesses ambitious to grow. Support from an external adviser is invaluable, helping you plan,  focus on the positives and avoid the negatives. I can help you – I have over 35 years' experience as a business owner. I'm a member of the Associations of Business Mentors (ABM), the professional body for business mentors in the UK – I'm one of the ABM's directors.
https://www.associationofbusinessmentors.org/
Plan ahead, think ahead, adapt and succeed.
To find out how I can help you,  contact me today to have a chat – there's no charge and no obligation.
Chris Dowling – Business Consultant & Mentor
T: 01825 701332
E: Chris@dowlingconsultants.co.uk
W: https://dowlingbusinessmentor.co.uk/